Orthopaedic trauma includes any number of injuries that result from slip and falls, car accidents, work-related injuries, or other injury mechanisms. After experiencing a traumatic injury such as a fracture, or broken bone, or other tendon or ligament injury, its important to find an orthopedic trauma specialist in NJ to help you optimally recover from your injury and return to the activities you love as quickly as possible. Read reviews for Dr. Keller to find out from her patients how she has helped restore their active life.
Julie M. Keller – 5-Star Rated Orthopaedic Surgeon in NJ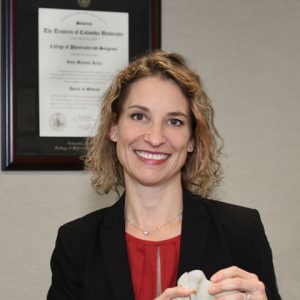 Your orthopedic trauma surgeon plays a vital role in the recovery process for any traumatic injury. Dr. Keller of Restoration Orthopaedics is a top orthopaedic surgeon in NJ, assisting patients to recover from traumatic injuries as well as the long term disabilities associated with trauma.
At Restoration Orthopaedics, the highest honor is to be recognized by our patients. Their reviews are testimony to the high level of care that we provide, and we take great pride in being ranked among the top orthopaedic offices in the region.
Dr. Keller is Board Certified by the American Academy of Orthopedic Surgeons, a member of the Foundation for Orthopedic Trauma, and regularly is invited as course instructor for industry-leading Orthopedic associations. She completed residency at Columbia University after which she completed a special trauma fellowship at Shock Trauma Hospital, one of the busiest and most competitive trauma fellowships in the country. With her training and experience at Restoration Orthopaedics, she was selected Chief of Orthopedic Trauma at Hackensack Hospital. Her professional background as an orthopedic surgeon in NJ and commitment to providing the best care for her patients are just few of the reasons why her patients and colleagues consistently consider her as one of the top orthopedic specialists serving the tri-state area.
Read More Patient Reviews for orthopaedic surgeon Dr. Julie M. Keller
Healthgrades Reviews for Dr. Julie M. Keller
Vitals.com Reviews for Dr. Julie M. Keller
Rate MDs Doctor Ratings
What Do Orthopedic Surgeon's Treat?
Orthopedic Surgeons focus on the diagnosis, treatment and prevention of injuries, disorders and diseases of the body's joints, ligaments, bones, muscles, nerves and tendons. These parts of your body make up your musculoskeletal system. They also treat bone and joint disorders, tears of muscles and ligaments as well as the prevention of long term disabilities and loss-of-movement associated with orthopedic trauma. Orthopedic Surgeons are dedicated to treating bone fractures, orthopedic trauma, broken bones, pelvic fractures, acetabulum fracture, nonunion, hip fracture, as well as injuries caused from car accidents, sports or falls.
What Do Orthopedic Trauma Specialists Treat?
Dr. Keller is regularly asked to help out on complex trauma injuries either in the acute or chronic setting.
Acute injuries that may require trauma specialized training include the care of high energy injuries such as car accidents or other motor vehicle accidents, polytrauma patients, and periarticular fracture, or fractures that involve the joint. Specifically, trauma training is necessary for those patients who sustain pelvic and acetabular fractures.
If you are in the emergency room and seeking the expertise of a fellowship-trained Orthopedic Trauma surgeon, call 201-226-0145 and make an appointment with Restoration Orthopaedics.
Outside the emergency room setting, orthopedic trauma specialists also treat injuries in the subacute and chronic setting. Dr. Keller treats the complex effects, complications, and long-term disabilities associated with orthopedic injuries. These include fracture nonunions, malunions, functional deficits, and pain.
How Do I Know If I Need A Hip Replacement?
Your hip is one of the main weight-bearing joints of your body, pain in your hip can be debilitating making it difficult for you to walk, climb stairs or enjoy the activities that you love. Hip pain can be caused by deformity or direct injury and can also be associated with osteoarthritis. To make matters worse, patients who experience joint pain day after day without relief can lead to "staying off" the joint — which often weakens the muscles around it so it becomes even more difficult to move.
You Don't Have To Live With Join Pain That Keeps You Away From The Activities You Love
Your doctor will discuss your best treatment options after testing and diagnosis. Total hip replacements are often prescribed for:
Debilitating pain during movement or performing normal function.
Painful joint disease of the hip resulting in severe arthritis.
Patients that are not likely going to see satisfactory results from less invasive procedures are also candidates for hip replacement.
Patients that have bone stock that is of poor quality or will not support other restorative treatments.
If you have pain while performing everyday movements it may be a good time to consider what treatment options are available to you. An orthopedic trauma specialist can help you determine if there are preventative treatments that may help you. Preventative treatments help slow the onset of further damage to the hip joints and restore proper function.
If you have not experienced adequate results with medication and other conservative treatments, total joint replacement may provide the pain relief you long for. A replacement will allow you to return to the lifestyle and activities you enjoy before your injury.
Your orthopaedic specialist can tell you whether you might benefit from joint replacement and explain the reasons why it may, or may not, be right for you. Of course, even if your orthopaedic specialist determines that joint replacement is a good medical option for you, it is still up to you to make the final decision. The ultimate goal is for you to be as comfortable as possible during treatment That always means making the best decision for you based on your own individual needs.
If you are seeking the expertise of a fellowship-trained Orthopedic Trauma surgeon, call 201-226-0145 and make an appointment with Restoration Orthopaedics.
About Restoration Orthopaedics
Restoration Orthopaedics is a leading orthopedic surgery practice in Northern New Jersey.
We are committed to achieving exceptional outcomes through continued research and specialty expertise, and to returning our patients to the activities they love as quickly and painlessly as possible. The surgeons at Restoration Orthopedics are each fellowship-trained in orthopedic specialties to provide care for a range of conditions. From sports medicine injuries and arthritis, to trauma surgery, ACL reconstruction, advanced shoulder and knee arthroscopy, and knee, shoulder, and hip replacements. The practice offers a complete spectrum of orthopedic care to patients throughout Bergen, Essex, Passaic and Morris Counties as well as the New York Metropolitan Area. The physicians of Restoration Orthopedics are on staff at Hackensack University Medical Center in Hackensack, New Jersey, HackensackUMC at Mountainside in Montclair, New Jersey, and Chilton Medical Center in Pompton Plains, New Jersey. Outpatient surgical procedures are also performed onsite in a state-of-the-art Same Day Surgery Center. Restoration Orthopedics has offices located in Maywood, New Jersey and Wayne, New Jersey.