Bilateral Total Knee Replacement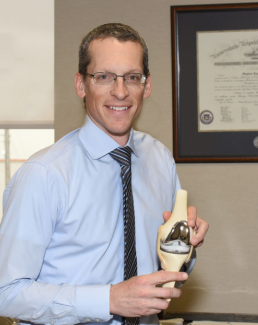 A Client's Success Story with Restoration Orthopaedics' Stephen Lindholm, M.D.
Hearing a doctor say "knee replacement" is often a scary experience for many patients. However, the connotation of a knee replacement is much different than the reality of this procedure. In truth, the knee "replacement" is more like a "resurfacing" to improve flexibility, strength, and stability.
What's more, this surgery is one of the most common for expert doctors like Stephen Lindholm, M.D. of Restoration Orthopaedics in North Jersey. In one case, a patient from Garfield, NJ shared his extremely positive knee replacement experience with the Restoration Ortho team. Before the patient met with Dr. Lindholm, he was barely able to walk. After due diligence was done and knee surgeries were conducted, the patient went back to running his business after his active life was restored to better than normal.
Joe Dee's Knees: A Case Study
For nearly 50 years, Joseph D'Amico has owned and operated his auto body shop along with his cousin in Garfield, NJ. By 2018, D'Amico was three years into his struggle with arthritis and the awful pain and inconvenience it caused him at work and at home.
"I actually went and met Joe at his shop," recalled Dr. Lindholm. "Joe was walking around with two canes. His arthritis was pretty advanced and involved all three compartments of the knee."
Lindholm explained that Joe's right knee was much worse than his left. The doctor and D'Amico, the patient, both agreed that that's where they'd start. D'Amico's and Lindholm's next meeting was for surgery on the right knee.
This surgery does not require replacement of the ligaments, tendons, muscles, or nerves inside and around the knee. Instead, the surgery simply resurfaces the ends of the thigh bone and shin bone—sometimes it involves replacement of the kneecap as well. There's a knee implant that goes on the end of the femur to replace the cartilage that has been worn off from arthritis. Similarly, the tibia bone is resurfaced and given a triangular implant that sits on top of the bone and connects to the other piece of the knee implant.
After surgery number one, D'Amico's recovery went as well as was expected.
"We did one [knee] at a time," shared D'Amico. "One in December and then I went back for the second one. I couldn't wait to go back because of how good that first one was."
And after the second surgery, D'Amico felt his recovery was on par with his initial experience.
"[The doctor did] a terrific job," said D'Amico. "There was no pain after a week. Therapy was at home and I didn't have to go to a facility. And I was back to work in three weeks after each one."
Lindholm felt satisfied that his job was done well—especially after D'Amico continued to refer family members to him as well as his colleagues at Restoration Orthopaedics.
"[Before surgery] I'd make it to work and fight my way out of the car[s] using my arms to get out," remembered D'Amico. "I don't do none of that anymore. I am working like I never had any trouble. I'm in perfect shape—with my knees anyway [laughs]."
More About the Procedure: Knee Replacement Surgery
To break it down easily for patients, the most common reason for a (Bilateral) Total Knee Replacement is usually severe arthritis that causes pain and stiffness. This happens in one or both knees. Oftentimes, these symptoms interfere with daily life and work activities—Restoration Ortho's job is to restore a person's active life.
What Is a Knee Replacement?
Knee joint replacement is a surgical procedure in which certain parts of an arthritic or damaged knee joint are removed and replaced with a prosthesis, or artificial joint. The artificial joint is designed to move just like a normal, healthy joint. This allows patients to get back to enjoying normal, everyday activities without any pain.
When non-invasive procedures do not relieve knee discomfort and pain, replacement surgery may provide the necessary relief. For patients that do choose surgery, they should know that more than a quarter-million Americans have knee replacement surgery every year. The procedure was first performed in 1968. Typically, it is known to relieve pain and restore joint function.
In the case study above (as well as for many other patients), Dr. Lindholm's expertise was supported by his extensive training in sports medicine and knee reconstruction. Plus, he has performed numerous postgraduate studies and seminars to keep current on the latest advances in orthopaedic care.
Even if a doctor recommends knee replacement to alleviate knee pain or restore function, it is still the patient's final decision. For those who have already received a recommendation from a doctor, the team at Restoration Orthopaedics can also provide a second opinion with (possibly) different options or courses of action. In the end, the goal is to live comfortably without pain based on customized, individual needs.
When Should I Consider a Total Knee Replacement?
The best recommendation for knee treatment can only be decided between the patient and his or her doctor. Surgery is a very personal decision between an individual and an orthopaedic specialist. However, surgery is often recommended if pain is affecting a person's daily life where relief seems unattainable.
If surgery is the best course forward, patients also often consider doing two knee replacements at the same time rather than waiting for one to heal. This is the difference between bilateral knee replacement and total knee replacement. Bilateral TKR can be performed simultaneously or in a staged manner. Simultaneous TKR is defined as the replacement of both knees in a single surgery. The major advantage of this surgery is that it requires only one hospital stay and rehabilitation period to recover both knees. However, this is not always the standard option for every patient. So, please seek the professional care of the knee veterans at Restoration Orthopaedics to restore a normal, active life without pain.
ABOUT RESTORATION ORTHOPAEDICS
Julie Keller, MD; Stephen Lindholm, MD; Jesse Allert, MD:
Restoration Orthopaedics is a leading orthopaedic surgery practice in Northern New Jersey. The professionals here are committed to achieving exceptional outcomes through continued research and specialty expertise. The goal of this practice is to allow patients a clear path and return to the activities they love as quickly and painlessly as possible.
The surgeons at Restoration Orthopaedics are each fellowship-trained in orthopaedic specialties to provide care for a range of conditions. Our facilities' leaders are well-versed in everything from sports medicine injuries and arthritis to trauma surgery, ACL reconstruction, advanced shoulder and knee arthroscopy, and knee, shoulder, and hip replacements.
This practice offers a complete spectrum of orthopaedic care to patients throughout Bergen, Essex, Passaic and Morris Counties as well as the New York Metropolitan Area. The physicians of Restoration Orthopaedics are on staff at Hackensack University Medical Center in Hackensack, New Jersey, HackensackUMC at Mountainside in Montclair, NJ, and Chilton Medical Center in Pompton Plains, NJ. Outpatient surgical procedures are also performed onsite in a state-of-the-art Same Day Surgery Center. Restoration Orthopaedics has offices located in Maywood, NJ and Wayne, NJ.