Robotic Joint Replacement Performed by Dr. Stephen Lindholm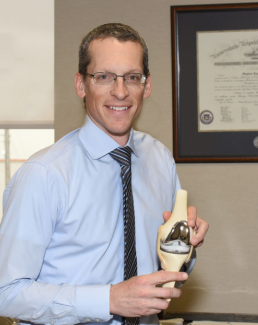 As one of the board-certified, fellowship-trained orthopaedic surgeons at Restoration Orthopaedics, Dr. Stephen Lindholm provides a full range of orthopaedic care through advanced technological systems.
One of those systems is the ROSA® Knee System, which is used for robotic-assisted knee replacements. Orthopaedic surgeons like Dr. Lindholm use ROSA to give patients the best possible chances at restoring their natural knees.
With or without robotic assistance, a knee replacement involves removing specific parts of an arthritic or damaged knee joint and replacing them with an artificial joint. The ultimate purpose is to help patients return to their everyday activities without pain.
Because the knee is the biggest joint in the body and has a huge impact on overall lifestyle, reaching the point of needing a knee replacement can be a difficult and sometimes scary time. We're happy to share that over the past several years, this process has seen amazing improvements!
In 2019, ROSA was given official FDA approval and has since been used by healthcare professionals around the world.1 Surgeons who utilize ROSA are known to help patients experience healthier knee flexion, or bending, which is essential for everyday function.
When a person of any age recovers their knee movement after surgery, they face a smaller risk of falls and further injuries. They also have a higher chance of enjoying long-term health. Knowing these benefits, Dr. Lindholm is happy to bring this advanced solution to more patients who need it.
Plus, this proven technology makes the experience easier for Dr. Lindholm behind the scenes. Because ROSA utilizes optical trackers attached to the patient's leg, the surgeon can "not only accurately carry out their surgical plans but also place knee implants with greater precision."2
In addition to greater precision, a robotic knee replacement provides more options for imaging, or seeing inside the knee before the surgery. Advanced imaging ensures that surgeons can assess soft tissue and "predictively plan a balanced knee replacement before performing any resections."3
Compared to conventional knee replacement methods, ROSA supports both the surgeon and the patient in a greater capacity. By collecting more insights about the anatomy of the patient's leg, the surgeon is better prepared to give the patient a naturally functioning leg.
Dr. Lindholm knows the sky's the limit when physical health is restored in this way. If you have questions about getting a robotic-assisted knee replacement, please request an appointment here.